We currently run our nissan Skyline r32 GTR In a series called nippon challenge.
The car is in "super GT" class which is limited to 400bhp with no minimum weight.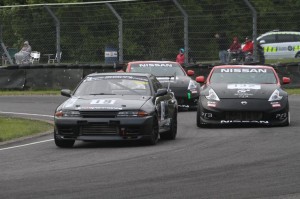 Picture: Castle Coombe
We won the nippon challenge 2012 super GT class last year.
Specifications:
RB26
Wiseco Forged Pistons
Brian Crowler Steel Rods + L19 Bolts
ACL Race Bearings
ARP Main & Head Studs
Standard Crank Shaft
Jimboformance Dry Sump System
Single Turbo Holset HX35 Billet
50mm Turbosmart wastegate
Custom 4″ Downpipe
Emerald K3 Managment
MSA Roll Cage
Custom Front Camber Arms
Cusco caster arms
Quaife ATB Front Diff
OS Gliken Superlock LSD Rear Diff
OS Gliken 1-4 Gearset + centre plate
OS Gliken Twin plate Clutch
And much more…..
The car has been developed over the last few years, and we aim to constantly develop throughout the season to improve handling and new products.